Order and Pay Online Immediately –
Paypal Button at Bottom of Page
For those who would rather read hard copy than from a computer screen, Pastor O'Neal has written a growing number of Bible study and sermon books. These inexpensive, helpful books are all written from the standpoint that the King James Bible is God's perfect, preserved word. Absolutely no references are made to Hebrew or Greek in order to explain the English text of the Bible.

---
HOT OFF THE PRESS:

ANNOUNCING … The newest title in my $2.00 series of booklet studies! Descriptions are found further down on the page:
The new book:
MENTAL HEALTH GOD'S WAY
Based primarily on the fourth chapter of Paul's epistle to the Philippians, this booklet shows God's way to peace of mind, contentment, joy, confidence, courage, and joy!
But first, three hardcover Bible study books:
Bible-believing Studies in
REVELATION
This is a 454-page hardcover book, premillennial, pretribulational rapture, verse by verse, scripture with scripture, dispensational, King James Bible-believing commentary. If you would like to order a copy and make immediate payment online, send me (mdoneal@comcast.net) your email address and I can invoice you through Paypal. A signed and numbered copy of the book is $29.95 plus $5.00 shipping. If you order more than one hardcover book, the shipping on the first book is $5 and each additional book is $2.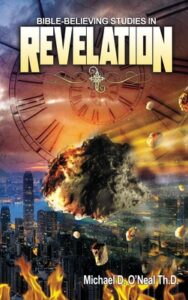 and …
Bible-believing Studies on
SATAN'S COUNTERFEITS
The greatest IMITATOR, the greatest COUNTERFEITER, of the Lord and the things of God … is the DEVIL! Here are the contents of the book:
Introduction – To Be "Like the Most High"
1 – An Imitation Savior
2 – An Imitation Salvation
3 – An Imitation Spirit
4 – Imitation Saints
5 – Imitation Scriptures
6 – Imitation Shepherds
7 – Imitation Songs
8 – Imitation Signs and Wonders
The book, Bible-Believing Studies on Satan's Counterfeits, is 153 pages, bound in a beautiful hardcover. You can get a signed and numbered copy for $19.95 plus $5 shipping. If you order more than one hardcover book, the shipping on the first book is $5 and each additional book is $2. Again, if you would like to order a copy and make immediate payment online, send me (mdoneal@comcast.net) your email address and I can invoice you through Paypal.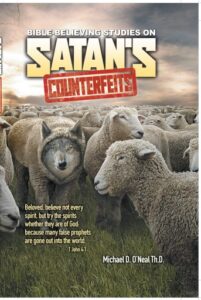 Bible-believing Studies in
ROMANS
This is a 504-page hardcover book, verse by verse, scripture with scripture, King James Bible-believing commentary on one of the most important books of the Bible! If you would like to order a copy and make immediate payment online, send me (mdoneal@comcast.net) your email address and I can invoice you through Paypal. A signed and numbered copy of the book is $29.95 plus $5.00 shipping. If you order more than one hardcover book, the shipping on the first book is $5 and each additional book is $2.
Plus – TWO LARGER ($12.95) SOFTCOVER BOOK TITLES …
If you want help training new people to present the gospel to others:
THE SOUL-WINNING TRAINING MANUAL – This book has an introduction to a church soul-winning training program, 13 weeks of lesson plans, scripture memory verses, reading assignments, a plan for presenting the gospel, and three of my books: What It Means to Believe On Christ; The Sinner's Prayer; and Real Repentance. This training program has helped a number of people in our church lead their very first souls to Christ AWAY from the church in the homes of the lost. $12.95 plus $3.00 postage and handling.
AND … Go through the entire Bible in one year, using my book as a help:
O'NEAL'S OUTLINES ON THE ENTIRE BIBLE – This book, "O'Neal's Outlines on the Entire Bible," consists of 52 lessons of alliterated notes for use by pastors and teachers, thus enabling the Bible to be surveyed in one year. Our church used these outlines in 1997, and our people loved it. The teachers appreciated the help in preparing their lessons. Other pastors have used the outlines for their Sunday School or Wednesday night services.
The book may be ordered by sending $12.95 plus $3.00 shipping and handling, to the address below. The book is copyrighted, but permission is granted for pastors to make copies of lessons for their teachers if they cannot afford to buy the book. The book may not be reproduced for resale.
In addition, I have a number of small, readable, but very useful and important books available:
---
Affordable, Provocative, Bible-Based Studies
These smaller books are only $2.00 each, plus postage (see bottom):

Send orders to the address at the bottom of this page.
These books may be ordered in combination with any or all of my other books:

The Sinner's Prayer

The Biblical Way to Hate Queers

Bible Basics

Hatred, the Missing Element of Discipleship

What It Means to Believe on Christ

Ready, Set … GROW!

Do We Have the Word of God?

Read Your Bible Through

Why Christmas is Full of the Devil

Goal Setting for Saints

The Holy Bible Vs. the Campbellite Heretic

O'Neal's Outlines No. 1

Bad Music is Killing Our Fundamental Churches

The Biblical Use of Sarcasm and Name-Calling

The Truth About TULIP Theology

Dating is for Dummies; Courtship is for Christians

Blunders and Boo-Boos of Baptist Briders

Real Repentance

How Rome Will Recapture the Protestants

How Benny Fools So Many

The Shocking Truth About Deacons

Hair – The Long And Short Of It

The Husband Of One Wife

Tips For Training Tots And Toddlers

If You Remarry

Why Your Wife and Daughter Should Not Wear Pants

Why I Am Not a Southern Baptist

Why You Should Be In Every Service

How to Resist The Devil

Did The Disciples Believe The Gospel? No!

Personal Separation — The Key To Fellowship With God

A Defense of the Public Invitation

Help for the Backslider

Why No Assurance?

Why I Love the Local Church

Eternal Security – Once Saved, Always Saved

Consider Staying, Preacher!

Temptations of the Ministry

How to Study the Bible

Marks of Devil Possession

The Preservation of Scripture

The Great White Throne Judgment

What Happens When Christians Sin

The Rapture

Why Every Christian Should be a Church Member

How to Recognize a Bad Bible

Mental Health God's Way
---
THE SINNER'S PRAYER
This book shows from the scriptures that a sinner is saved by grace through faith, not prayer; that no unbeliever became a believer by praying "the sinner's prayer," and that no soul-winner in the New Testament instructed an unbeliever to pray "the sinner's prayer. "The sinner's prayer," as used today, leads more often to confusion than to salvation, resulting in individuals making second and third professions of faith later.
---
THE BIBLICAL WAY TO HATE QUEERS
God does not allow believers to physically attack sodomites. However, as the Bible uses the word, "hate," (to reject one thing in favor of another) there is a biblical way to hate them. This booklet may be declared to be "hate speech" by some people, but it is full of biblical truth, without animosity toward anyone.
---
BIBLE BASICS
This book consists of six lessons of fundamental truths helpful in discipling new believers. Each lesson consists of statements about basic doctrines, followed by scripture verses.
The lessons include: 1. SALVATION
2. SERVICE
3. SEPARATION
4. SCRIPTURES
5. SECOND COMING
6. SOUL-WINNING
Each lesson is followed by a short answer, fill-in-the-blank test. An answer key is in the back of the book. I have used this material as a lesson plan for teaching new church members and new converts for decades. It helps ground the new believer in these basic truths, and it serves as a valuable reference tool for easily locating scriptures that teach these doctrines.
---
HATRED, THE MISSING ELEMENT OF DISCIPLESHIP
This book provides balance for the Christian life. It proves that some hatred is godly; that God hates some people as well as things they do (contrary to the "hate the sin but love the sinner" philosophy); and that no Christian can be a disciple of Jesus Christ unless he learns to hate people, including his own life.
---
WHAT IT MEANS TO BELIEVE ON CHRIST
Recognizing the extremes of "easy believism" and "Lordship salvation," this book shows the scriptural teaching on the sinner's response to the gospel. It also shows the importance of delivering the gospel message clearly to unbelievers. This would make a great gift for an unsaved friend or loved one.
---
READY, SET … GROW!
While the book, "Bible Basics" sets forth foundational precepts for a new believer, this book emphasizes fundamental principles that will insur a believer's growth in grace and in the knowledge of our Lord and Savior Jesus Christ.
---
DO WE HAVE THE WORD OF GOD?
In simple, layman's terms, this book presents the case for the King James Version Only position. It gives seven reasons for accepting the Authorized Version as God's preserved, pure, inspired, inerrant, infallible word. It also reveals significant changes made in the new versions, listing the verse references, the key words changed, and the fundamental doctrines affected by the changes.
---
READ YOUR BIBLE THROUGH
This book gives motivation and methods by which the believer can read his Bible completely through from cover to cover for the first time, and then to make it a regular habit. It includes a Bible reading guide and a Bible reading record.
---
WHY CHRISTMAS IS FULL OF THE DEVIL
This book exposes Christmas as a Roman Catholic holiday imported from Babylon. It shows the connection between Santa and Satan, warning parents about the danger of lying to their children about Santa but expecting them to believe what they say about the Lord Jesus Christ. It shows why Christians bow before trees in their homes and place gifts at the foot of those trees. If you love tradition more than the word of God, don't order this book.
---
GOAL SETTING FOR SAINTS
Are you really getting things done for the Lord? "Only one life, 'twill soon be past; only what's done for Christ will last." This book gives guidelines for setting goals from a Biblical perspective, to assist the believer in pressing forward to achieve God's perfect will for his life.
---
THE HOLY BIBLE VS. THE CAMPBELLITE HERETIC (And Others Like Him)
This book presents Bible answers to 15 objections from a Church of Christ minister to the doctrine of the eternal security of the believer. The book is helpful in dealing with unsaved religionists of all types, because they nearly all twist the same verses.
---
O'NEAL'S OUTLINES NO. 1
Alliterative, A.V. 1611-based sermon starters. Sermon titles include: "Get a Grip," "Jesus is the Sinner's Friend," "The Fire Within," "Zip! Zip! (The Rapture)," "Wake Up and Smell the Coffee," "You Can Have the Best Things in Life," "Bad Music is Killing Our Fundamental Churches," "The Church is the Lord's Crown," "Troubles Can be a Blessing," "Some Things God Never Intended," "Words Children Need to Hear," and "Believing the Bible, Fighting for the Fundamentals." At a price of about 16 cents per outline, you ought to find this one to be a bargain.
---
BAD MUSIC IS KILLING OUR FUNDAMENTAL CHURCHES
Why are fundamental Baptists singing music written by the charismatics? This book warns about the way fundamental Baptists are allowing music from Egypt (type of the world), Africa (land of Ham) to infiltrate and dominate their services, providing a breeding ground for unclean spirits.
---
THE BIBLICAL USE OF SARCASM AND NAME-CALLING
This book proves that, contrary to popular belief, making fun of someone else's religion is not the unpardonable sin. It shows that sarcasm and name-calling are practiced by the Lord and those who follow Him.
---
THE TRUTH ABOUT TULIP THEOLOGY
Subtitled, "The Bible's Opposition to Five-Point Calvinism," this book shows that all five points of the theological system are contrary to the scriptures. It proves that no Bible believer should even be a one-point Calvinist.
---
DATING IS FOR DUMMIES; COURTSHIP IS FOR CHRISTIANS

This book exposes the dangers of the custom called "dating," and recommends an alternative that is in line with scripture!
---
BLUNDERS AND BOO-BOOS OF BAPTIST BRIDERS

Baptists have their heresies (false teachings) as do other groups. This book shows that these mistakes have proceeded from men's traditions rather than from the Bible.
---
REAL REPENTANCE

Although they claim to teach differently from them on the doctrine of salvation, the truth is that many, many fundamental Baptists view repentance for salvation no differently than do the Pentecostals, the Freewill Baptists, the Church of Christ, and other counterfeit Christian groups who mix works with grace. This book refutes the errors running rampant in our movement on this issue, which have resulted in the "Lordship Salvation" heresy taught by John MacArthur and many fundamental Baptists, and it sets forth the plain teaching of the word of God on real repentance.
---
HOW ROME WILL RECAPTURE THE PROTESTANTS
This book deals with four devices the devil is using to endeavor to unite all "Christian" religions with Roman Catholicism: 1. A Corrupted Message; 2. Compromised Morals; 3. Carnal Music; and 4. the Charismatic Movement. It sheds light upon the endorsement of the Pope by former fundamentalists, the seduction of believers by ecumenical movements, the almost total adoption of charismatic music by Baptists, and the incredible mixing that has taken place since the '70s of Rome's ritualism with charismatic emotionalism.

---
HOW BENNY FOOLS SO MANY

This book examines the popularity of Benny Hinn and other fake healers. It shows why so many people, including those who attend our churches, are fooled by him.

---
THE SHOCKING TRUTH ABOUT DEACONS

This book shows that nearly 100 percent of the men who hold the office of a deacon have no scriptural justification whatsoever for their concept of the office's duties. Pastors, read this one before it is too late!

---
HAIR – THE LONG AND SHORT OF IT

This book explains the phenomenon of the modern unisex hair styling shop, which produces men with wavy hair, permed hair, and other styles down to their shoulders; and women with short hair cut above the ears and tapered on the back of the neck. Be prepared for the brief insert in the study of a scriptural view of the legends of Vampires!

---
THE HUSBAND OF ONE WIFE

This book, written by a man who has been married to his first and only wife since 1971, and who has pastored independent Baptist churches since 1975, exposes the prevailing interpretation of 1 Timothy 3:1-2 as being nothing other than the tradition of men.

---
TIPS FOR TRAINING TOTS AND TODDLERS
Parents are bringing children into this world without being prepared to train them from infancy. This book is small enough so that young couples will read it rather than let it gather dust on a shelf, but comprehensive enough to provide a solid foundation for Biblical rearing of children. The author is a grandfather, who cherishes his married daughter's public testimony: "I want to raise my children exactly like my parents raised me."

---
IF YOU REMARRY

God's plan is for one man and one woman to marry in His will and stay married until death. However, due to many circumstances, at least half of married people get divorced. What options do those divorced people have? This book answers the question from God's word.

---
WHY YOUR WIFE AND DAUGHTER SHOULD NOT WEAR PANTS

This book is an appeal for men to lead their wives and daughters to dress in a godly manner. Part 2 of the book is written by Mrs. O'Neal and is titled, "YES, LADIES … IT IS A PROBLEM!"

---
WHY I AM NOT A SOUTHERN BAPTIST

This book explains why Pastor O'Neal left the Southern Baptist Convention in 1972, never to return.
---
WHY YOU SHOULD BE IN EVERY SERVICE

This book gives solid, scriptural reasons why a Christian should be in the right kind of church every time the doors are opened!

---
HOW TO RESIST THE DEVIL

Satan is defeating Christians right and left. This book, if heeded, will give them the scriptural means by which to successfully overcome the devil.

---
DID THE DISCIPLES BELIEVE THE GOSPEL? NO!

This book shockingly reveals that the Lord's disciples in His earthly ministry actually rejected the gospel of the grace of God!

---
PERSONAL SEPARATION — THE KEY TO FELLOWSHIP WITH GOD

Actually this 44-page book is two books in one, "Personal Separation — A Balanced View" and "The Call To Come Out." Personal separation, an issue long ignored by Southern Baptists, charismatics, and other worldlings, is a missing note among many Bible believers today who call themselves independent Baptists or fundamentalists. This book encourages God's people to let God be a Father to them, in fellowship, by coming out from darkness and being separate.

---
A DEFENSE OF THE PUBLIC INVITATION

Actually this book is two books in one: RSVP and In Defense of the Public Invitation.

---
HELP FOR THE BACKSLIDER

This book tells how to recognize backsliding, how to prevent it, and how to recover from it.

---
WHY NO ASSURANCE?

This book helps to explain from the scriptures why so many people today who make public professions of faith in Baptist churches after a time have little or no assurance of their salvation. This is a MUST-READ.

---
WHY I LOVE THE LOCAL CHURCH

You might give this book to people who claim to be saved but don't seem to have an affection or loyalty to their local church. A faithful church member will be encouraged by this book, as well.

---
CONSIDER STAYING, PREACHER!
This book gives reasons why a preacher who is considering leaving his church should consider staying.
---
TEMPTATIONS OF THE MINISTRY
Preachers are falling right and left, it seems sometimes. That does not have to be the case.
---
HOW TO STUDY THE BIBLE
This book gives important principles for studying the Bible and becoming proficient with its contents.
---
MARKS OF DEVIL POSSESSION
These are given from scripture, not sensational experiences or speculation. Many people in congregations today are under the influence of spirits.
---
THE PRESERVATION OF SCRIPTURE
This is a simple, sound, scriptural account of God's promises to keep His words available on the earth.
---
THE GREAT WHITE THRONE JUDGMENT
This is a study but also an evangelistic tool. Give it to your lost loved ones.
---
WHAT HAPPENS WHEN CHRISTIANS SIN
This explains the consequences, with a warning to the saved about the possibility of sinning and an explanation of salvation to those who are lost.
---
THE RAPTURE
This booklet explains the Bible's teaching on the subject, closing with a warning to unregenerate readers to trust Christ before it's too late.
---
WHY EVERY CHRISTIAN SHOULD BE A CHURCH MEMBER
Every saved person should be more than a church attender; he should be a member. This booklet shows your visitors that they should be committed to a local fellowship of believers, rather than just attend "church" at home, on television, or on the Internet.
---
HOW TO RECOGNIZE A BAD BIBLE
This booklet gives key verses that are changed in the new versions, tells what changes the versions make, and shows the doctrine that has been obscured or removed by the change. In the back is a cut-out sheet that can be copied and kept anywhere for a handy help in showing someone why the new versions are inferior to the King James Bible.
---
MENTAL HEALTH GOD'S WAY
Based primarily on the fourth chapter of Paul's epistle to the Philippians, this booklet shows God's way to peace of mind, contentment, joy, confidence, courage, and joy!
PRICING:
These small books are available for $2.00 each. As printing costs have gone up, please add the followed suggested postage to your order! Thanks!
Total Order – Shipping
0 – $20.00 – $3.00
$21.00-$40.00 – $6.00
$41.00-$60.00 – $8.00
$61.00-$100.00 – $10.00
$101.00-$150.00 – $15.00
If you use Paypal, you can use the Send Money tab and my email address of brothermike@brothermike.com. Here is a button you can use to go right to the Paypal site:
Please make checks payable to Michael D. O'Neal and send to:
Michael D. O'Neal
5111 Poppy Dr.
Jacksonville, FL 32205
E-Mail Address:…brothermike@brothermike.com
---